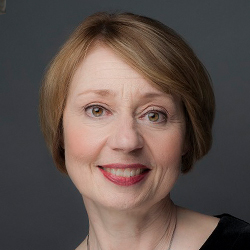 Dr. Hilary Apfelstadt is the Director of Choral Programs at the University of Toronto.
Canadian by birth, she began her music education in Nova Scotia at the age of five. Her degrees, all in vocal music education, are from the University of Toronto, the University of Illinois, and the University of Wisconsin-Madison. She also has a diploma in piano performance from the Royal Conservatory of Music in Toronto.
From 1993 – 2010, she was Professor and Director of Choral Activities at the Ohio State University in Columbus where she also served as Associate Director for the School of Music from 2008 – 2010. Choirs under her direction have performed at regional and national conventions of the American Choral Directors Association (ACDA) and at state and regional conferences of the National Association of Music Education (MENC). She has conducted many honor choirs and all-state choruses throughout the United States and has guest conducted in Canada, Cuba, and England. In February 2009, she conducted the Mormon Tabernacle Choir in a public broadcast of "Music and the Spoken Word." She has led choral festivals in Switzerland and Austria, and conducted at St. Peter's Basilica in Rome in 2011. She is a frequent lecturer and clinician at professional conferences and universities, and is a mentor to many young conductors and choral educators.
Dr. Apfelstadt's research areas include leadership styles among conductors, and choral repertoire, particularly by Canadian composers. She has published over seventy articles on choral music in various refereed journals, and wrote two chapters in Wisdom, Wit and Will: Women Conductors on their Art, (GIA, 2009). She serves on the editorial boards of The Choral Scholar, the official publication of the National Collegiate Conductors Organization (NCCO), and the ACDA Choral Journal, and is also the choral column editor for the Canadian Music Educator. She is an advisory board member for AIRS (Advanced Disciplinary Research in Singing), a project funded by the Social Sciences and Humanities Research Council of Canada. A past national president of ACDA, Dr. Apfelstadt sang with the Robert Shaw Festival Singers for several years and recorded two CD's for Telarc with the Singers in France.