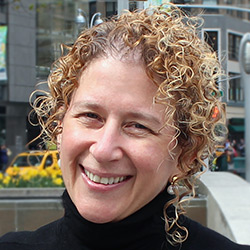 Iris Derke is Co-Founder and General Director for DCINY, a concert production company responsible for large-scale concerts at numerous prestigious concert venues. DCINY has brought together tens of thousands of talented artists and musicians from across the globe in performance since its first season in 2008. Ms. Derke is also a frequent collaborator with such esteemed artists as Eric Whitacre, Karl Jenkins and Christopher Tin, presenting numerous world and American premieres of their works.
Ms. Derke is a major contributor to the American Choral Directors Association (ACDA), Chorus America, National Collegiate Choral Organization (NCCO), and the International Federation of Choral Music (IFCM), among other organizations and is an invited presenter asked to share insight about the challenges of leading a successful arts organization in today's era. Her presentations have included sessions at the Association of British Choral Directors Conference at the Royal Conservatory of Scotland, Glasgow, as well as numerous contributions to media outlets including INC Magazine.
A versatile artist, flautist Iris Derke's performances have taken her throughout the world including concerto appearances with the TURKSOY Symphony Orchestra in Istanbul and Ankarra, Turkey; the Distinguished Concerts Orchestra in New York's famed Carnegie Hall and Lincoln Center; and in Bialystok, Poland with the Polish National Symphony. Her appearances have received much praise, for Ms. Derke's "attentive and loving performance… (providing) celestial music…and heart-rendering sequences". Ms. Derke can additionally be heard on numerous studio recordings with Disney, Columbia/RCA, and Apple Computers for film, television and educational music software. Ms. Derke most recently performed at Lincoln Center featuring the world premiere of a new Flute and Harp Concerto written by Dinos Constantinides for Ms. Derke and to commemorate DCINY's 10th Anniversary Celebration.  Her most recent appearances included the premiere of Flautando written for her by composer Matej Meštrović in Zagreb with the Croatian Chamber Orchestra in 2019. She will return to Zagreb for additional performances in 2023.
As an avid seeker of life's adventures, Ms. Derke has enjoyed a robust career as entrepreneur, musician, concert producer as well as a love of running/walking, travel and the outdoors. She has completed 2 ultra-marathons, trekking 155 miles over 7-day self-supported Racing the Planet Desert Runs through the Andes Mountains of Patagonia and through the Atacama Desert of Chile, in addition to annually participating in the NYC Marathon and NYC Triathlon. Originally from Santa Monica, California, Ms. Derke received education and ongoing training at UCLA, The Royal College of Music in London (United Kingdom), Manhattan School of Music and at Columbia University's School of Business. Ms. Derke currently relishes her NYC residency status with her family, jazz educator and musician Rob Derke, and daughter Gabriella.