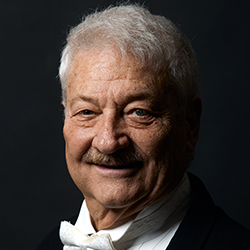 An acclaimed conductor, educator, and lecturer, Jonathan Griffith has led performances across North America, Europe, Australia and Asia. Maestro Griffith is co-founder and artistic director of Distinguished Concerts International New York (DCINY), which has brought together, under his artistic leadership, thousands of musicians and choral singers in concert at prestigious venues across the United States, including Carnegie Hall, Lincoln Center, and Disney Hall. The founder and music director of the Distinguished Concerts Orchestra, Maestro Griffith also oversees DCINY's mentoring program for conductors.
He made his Carnegie Hall conducting debut in 1989 and has conducted well over 2– performances at Carnegie Hall and Lincoln Center combined. In addition to the major works of the classical repertoire, conducting highlights includes the U.S. premieres of Karl Jenkins' Stabat Mater, The Armed Man, and Te Deum, Sergei Taneyev's Upon Reading a Psalm, Miloš Bok's Missa Solemnis, Luigi Boccherini's Villancicos, and Eugene Goossens' reorchestration of Handel's Messiah, along with world premieres by Eric Funk, Seymour Bernstein, and Robert Convery. His additional conducting credits include the Mormon Tabernacle Choir in Salt Lake City; Manhattan Philharmonic and New England Symphonic Ensemble, both at Carnegie Hall; The European Symphony Orchestra in Spain; Bohuslava Martin Philharmonia and Philharmonia Chorus, Virtuosi Pragensis Chamber Orchestra, Karlovy Vary Symphony Orchestra, and Dvor ˇák Chamber Orchestra in the Czech Republic; and the Bialystok State Philharmonic in Poland, as well as numerous regional orchestras and choruses across the United States.
The Jonathan Griffith Singers, an ensemble drawn from singers across North America and founded in 1987, has made its mark internationally. In recent years, Griffith has led the Singers on highly acclaimed tours to Uruguay and Argentina; to the People's Republic of China, premiering Karl Jenkins' The Armed Man: A Mass for Peace in Beijing and Shanghai; and to Pisa, Italy. Dr. Griffith and the Jonathan Griffith Singers toured Turkey in June of 2013 performing the acclaimed Turkish oratorio Yunus Emre by A. Adnan Saygun in Istanbul with the Cemal Reșit Rey Orchestra and in Ankara and Eskinșehir with the Presidential Orchestra at the invitation of the TURKSOY governmental agency. The ensemble will perform in New Zealand in 2023.  Maestro Griffith is the 2014 winner of The American Prize in Conducting, professional orchestra division.
In 2019, Maestro Griffith recorded the Sir Eugène Goosens orchestration, commissioned by Sir Thomas Beecham, of Handel's Messiah with the Royal Philharmonic Orchestra, the Jonathan Griffith Singers, the National Youth Choir of Great Britain, and soloists in London at Abbey Road Studios.  He most recently conducted the well known Fado Singer Jelena Radan and the Zagreb Philharmonic in a sold out concert in Lisinski Hall, Zagreb, Croatia in May, 2022.
Dr. Griffith received his DMA in conducting from the Conservatory of Music/University of Missouri-Kansas City, a Masters in Music Education from Wichita State University, and Bachelor of Music Education from the University of Kansas