Stern Auditorium/Perelman Stage, Carnegie Hall
Also Featuring:

Christopher Job, Bass-Baritone
John McVeigh, Tenor
Penelope Shumate, Soprano
Veronica Pollicino, Mezzo-Soprano
Chesapeake Messiah Chorus
Sing Napa Valley
The Lakeshore Singers
L.A. Daiku Association, Inc. /Los Angeles, CA
Warrenton Chorale
American International School of Vienna High School Choir
Trinity Episcopal Church Choir, St. Mary's City, MD, USA
Click an item below to expand
Participating Group Directors
Chesapeake Messiah Chorus
Craig Robertson
June Vinson was the founder and the driving force behind the creation of the Chesapeake Messiah Chorus. She enlisted Craig Robertson's help. He was a choral music teacher and then the Music Supervisor for Chesapeake Public Schools. Craig Robertson was the first director for the Chesapeake Messiah Chorus and has led the group several other times, along with other music professionals.
The Chesapeake Messiah Chorus came into existence in 2007. To participate, a singer must live, work, or worship in Chesapeake. Each year, with the exception of 2020, the group has performed the Christmas portion of the Messiah at a church in Chesapeake.
Sing Napa Valley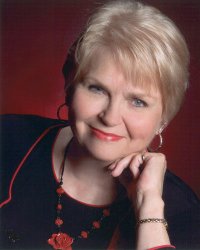 Jan Lanterman
Jan Lanterman has been the artistic director and conductor of Sing Napa Valley (formerly Napa Valley Chorale) since 1984. She is passionate about providing opportunities for lifelong choral singing experiences. This year she is also celebrating her fiftieth year as Cathedral Choir Director at Napa Methodist Church in Napa, California. She is a graduate of California State University, Chico, where she studied with Ralph Wadsworth and sang in the prestigious A Cappella Choir. She studied conducting postgraduate with Jane Marshall, Carlton Young, Louis Magor, and René Clausen, among others.
From its beginnings in 1963, Sing Napa Valley (formerly Napa Valley Chorale and Napa Valley Choral Society) has provided the opportunity for study and performance of major choral literature. SNV is an auditioned, intergenerational community chorus. Its vocal artists range from young teens to senior citizens. Sing Napa Valley's vocal artists rehearse weekly during the fall and spring seasons. Sing Napa Valley is a nonprofit California corporation governed by a board of directors led by President Rodney Skillings and includes both singers and community members.
The Lakeshore Singers
Andrew Hipwell
Andrew Hipwell is the Principal Artistic Director of The Lakeshore Singers. Hipwell holds a music degree from Geneva College and has been directing choirs for over 20 years. He is honored to have the chance to get to perform with members of his group for a second time at Carnegie Hall with DCINY!
The Lakeshore Singers is a non-profit organization that serves the greater DuBois Area in Pennsylvania. We became incorporated in 2018, after we performed for the first time together at Carnegie Hall with DCINY. We sing not only for churches, but we provide outreach and perform for local nursing homes and events, such as the local Suicide Prevention Walk held annually.
L.A. Daiku Association, Inc. /Los Angeles, CA
Jeffrey A. Bernstein
Jeffrey Bernstein is a California-based composer, conductor, pianist and educator. He is Artistic Director of L.A. Daiku since 2009. He holds music degrees from Harvard, Yale and UCLA. He has led choirs on fourteen tours of four continents and traveled extensively as a guest conductor, directing choirs and orchestras in Europe, Japan and throughout this country. A committed educator and strong advocate for children, he maintains a private studio and is on staff at the Pasadena Waldorf School, where he creates improvised piano music for young people.
L.A. Daiku is established in 2009 following the Beethoven's Ninth Concert "Bridging U.S.A. and Japan" sponsored by Japanese Business Association at Walt Disney Concert Hall. Since their inception, L.A. Daiku has strengthened the Japanese Daiku (the Ninth) tradition and forged personal connections by performances of the Daiku in L.A. in January and in Naruto, Tokushima, Japan in June every year. L.A. Daiku is a member of "All-Japan Association of Daiku Choral Societies" organized by the mayor of Naruto and became a directorial group since 2014. L.A. Daiku established the Non-Profit Organization, 501(c)3, in 2013. Rehearsals are held on every Saturday morning. Their annual concert was held last month in Altadena, CA. Their work is inspired by Schiller's words, made famous by Beethoven "All men shall be brothers." Everyone is welcome to join.
Warrenton Chorale
David L Shorts JR
David L Shorts JRhas been singing in church since he was 8 years old. He has been singing with the Warrenton Chorale for the past 10 years. David has a wide vocal rage from bass to Soprano. He currently sings in the praise band and Chanel Choir at Warrenton United Methodist Church in Warrenton, VA. He has worked at Giant Food for over 20 years and is very involved in the Warrenton Community. He has an inside jungle of plants with over 11 varieties. 150 plants in total in Brandy Station, VA.
Rachel Di Silvio has been singing in church since she was 5 years old and hasn't stopped since. She has been singing with the Warrenton Chorale for the past 3 years. She currently leads worship at her non-denominational Christian church in Northern Virginia, where she sings, plays piano, plays guitar, and writes music. She is a high school teacher for Loudoun County Public Schools, where she teaches biology and science research courses. Rachel lives with her husband, three children, and a cat, who keep her very busy, in Warrenton, Virginia.
American International School of Vienna High School Choir
Kathy Heedles
Kathy Heedles has taught Choral Music and Fine Arts at the American International School of Vienna since 1985. A native of Iowa, she studied voice, piano, and choral conducting. Having first taught in two Iowa schools and the American School of Honduras, once coming to Vienna, Kathy fell in love with the cultural opportunities that Vienna offers and made Austria her home. AIS boasts a diverse community with 795 students, representing 69 nationalities and speaking 47 languages. Kathy and her husband Henry, also a teacher at the school, have raised three children who all attended AIS and consider Austria their home. AISV is an active member of the Association for Music in International Schools- AMIS- and Kathy has conducted many festivals and has served as piano accompanist for even more. Through AMIS festivals, AIS students have performed in 21 major cities in Europe and the Middle East. AIS Choirs also study a large choral work every second year and perform it in a beautiful venue in Vienna, as well as joining DCINY for a fifth visit this year.
The American International School of Vienna has a very active Choral music program. Many High School students choose choir in their busy schedules and rehearse every second day for 75 minutes. They are in grades 9-12 and there is no entrance audition. Students perform regular choral concerts at the school and may audition for AMIS choral festivals which are held at international schools around Europe and the Middle East. Singers are encouraged to continue to sing throughout their High School years, though the International Baccalaureate diploma is very rigorous and limits our student's time options. We learn an important choral work every second year and include our community of teachers and often our alumni that are still in Vienna. We value the opportunity to enrich our lives by actively participating in the cultural life of Austria.
Trinity Episcopal Church Choir, St. Mary's City, MD, USA
Jennifer Linhart Wood, Ph.D.
Jennifer Linhart Wood (B.Mus., M.A., Ph.D.) is a lyric soprano who directs the Trinity Episcopal Church Choir, and enjoys singing music ranging from Renaissance motets to Classical arias to church choral music. She has directed choirs for over fifteen years and is an active composer of choral arrangements and original anthems. She has performed as a soloist throughout the DC-Maryland-Virginia area; on studio albums; and with acclaimed choirs, including the Metropolitan Chorus at the Kennedy Center. Jennifer's fascination with the transformative power of music inspired her award-winning first book, _Sounding Otherness in Early Modern Drama and Travel Writing_.
The Trinity Episcopal Church Choir, is an inclusive, joy-filled, and diverse branch of the Trinity family, and is comprised of parish members and students from Saint Mary's College. We sing a wide range of music to celebrate our diversity: works by Haydn, Moses Hogan, Tallis, Stanford, Chilcott, Joseph Martin, Mary Macdonald, Pepper Choplin, and—of course—Handel. The music we sing serves as an enhancement to the worship experience, drawing people closer to Christ. We believe that music, especially music that is reflective of God's love, is a transformative force and we are delighted to perform again with DCINY.