Stern Auditorium/Perelman Stage, Carnegie Hall
The Kindness Revolution Singers (MN)
Darcy Reese, Director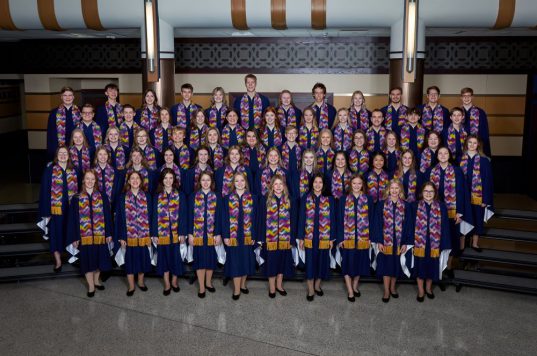 Repertoire Includes:
Meditation for Piano 2. De Profundis
Mikhail Shukh
If We Stand As One
Jim Papouli
Lead With Love
Melanie DeMore
Ain't Judgin' No Man
Greg Gilpin
The Power of Kindness
Mark Hayes
In Meeting We Are Blessed
Troy Robertson
My Good Lord's Done Been Here
arr. Andre J. Thomas
I Am Alive
Greg Jasperse
Song For Justice
Kim Andre Arnesen
The Kindness Revolution Singers have been proclaiming the importance of diversity, inclusion, and kindness within their music for the past 22 years under the direction of Mrs. Reese. The choir has worked with various artists from around the country including the late Horace Clarence Boyer (African American Historian & Musician), the late Henry Oertelt (Holocaust Survivor & Author), Robert Robinson (Gospel Singer), Darnell Davis & The Remnant (Gospel Singers), Various Native American tribe members, Steve Barnett (Grammy Award winning Producer and Jewish Historian). The choir has recorded in Minneapolis at MPR and at Skywalker Ranch in California. Over the years the choir has performed at various cathedrals in Minnesota, California, Illinois, and New York. In 2019 an award winning documentary titled "More Than Just the Music" was produced on the choir and how they focus on celebrating diversity and inclusion within their shows.
Grove City High School Chorale & Harmonia
(OH)

Ann Johnson, Director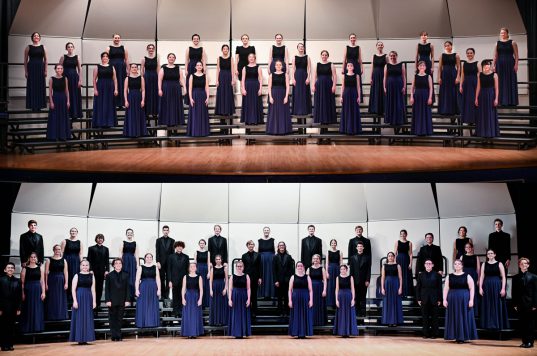 Repertoire Includes:
Da Pacem (The Stars Sang to the Sea)
Paul Caldwell and Sean Ivory
Veni Sancte Spiritus
Wolfgang Amadeus Mozart
Across The Vast, Eternal Sky
Ola Gjeilo
Sing Creations Music On
Music Stephen Paulus
Ubi Caritas from Quartre Motets sur des thèmes grègoriens, Op. 10
Maurice Duruflé
Wild Forces
Jake Runestad
Music Down in My Soul (African American Spiritual)
Arranged by Moses Hogan
The Grove City High School Chorale and Harmonia choirs are extremely selective ensembles dedicated to high rigor and excellence. Students are placed through an audition process. Professionalism, sight-reading ability and strong musicianship skills are expected in every rehearsal and performance. Harmonia is the advanced chorus of women in the program while Chorale is an advanced mixed chorus. The Chorale has been selected to perform for the Ohio Music Education Association (OMEA) Professional Development Conference numerous times over the past few years. Harmonia has been featured in collaboration with the Columbus Symphony Orchestra, Ballet Met Columbus and the top Columbus Children's Chorus. Both choirs consistently receive superior ratings at OMEA adjudicated events at the highest level of entry.
Participating Group Directors
Kindness Revolution Singers
Darcy Reese
Darcy Reese has been teaching in Thief River Falls, MN for 36 years. She teaches 6-12 vocal music along with a middle school pop choir and a high school vocal jazz choir. She has a passion for bringing quality music and experiences to each of her students. She has won numerous awards including the very prestigious Minnesota Music Educator's Teacher of the Year award in 2002. She most recently won the 2020 WEM Foundation's Ethics in Education Award plus a $ 15,000 cash prize. In 2019 a PBS documentary was produced on Mrs. Reese and the choir titled "More Than Just The Music". The award winning documentary has aired across the United States and parts of Canada. Mrs. Reese brought the choir to Skywalker Ranch in California in 2018 to cut an album titled "Audacity of Hope". Various songs from the album were nominated for the Rhythm of Gospel awards. "The best part about teaching, is seeing the end product. I start out with a vision of what I want the end product to look like and then write a curriculum to support every aspect of the journey. Finally the day comes when everything comes together and all participants truly understand the deeper meaning of the journey. They take the journey; experience the music; and pass it on.
Grove City High School Chorale & Harmonia
Ann Johnson
Ms. Ann Johnson recently concluded her fourth year as Director of Choirs at Grove City High School and her eighteenth year as a high school choral director. The choirs under her direction consistently achieve the highest ratings at the highest levels at regional and state level adjudicated events. Ann is an Adjudicator for the Ohio Music Education Association (OMEA) and has served on the Ohio Choral Directors Association (OCDA) board. She has conducted regionally for the OMEA All-State Choir and is on the OMEA repertoire selection committee. Choirs under her direction have performed with the Columbus Children's Chorus, Columbus Symphony Orchestra, The Ohio State University and Miami University of Ohio. They have also been selected twice to perform for the Ohio Music Education Association Professional Development Conference. Ann has been a finalist for the Columbus Symphony Secondary Music Educator of the year and Columbus Parent Educator of the Year. She also spent a summer studying choral methods at the Juilliard School. She received her Bachelor of Music Education (BM) from Ohio Wesleyan University and Master of Music Education (MM) with Kodaly Certification from Capital University.